Olympian has London 2012 kit stolen from car in Ipswich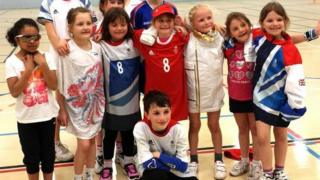 A British Olympian who had her kit from the London 2012 games stolen has described the theft as "devastating".
Louise Jukes, who was part of the handball team at the London Olympics, said the clothing was taken from her car in Ipswich.
"It also included pin badges swapped with other athletes and my lanyards," she said. "I'm gutted."
Ms Jukes said the kit, taken overnight on Thursday, was used to inspire children to take up sport.
"My first thought was about when I go to the schools. What am I going to take with me to show them?" she said.
"If I do an assembly I get the kids to come up at the end. They try it all on and get really excited - it makes everything a bit more real to them."
She said the items did not have a high monetary value.
"It's of no value to anybody but me," she said.
"It's the impact the kit has on the children and I wanted it to show my future children or grandchildren."