Olympian Louise Jukes has stolen London 2012 kit returned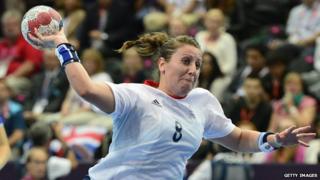 A British Olympian who had her kit from the London 2012 games stolen says she is "beyond happy" that it has been returned.
Louise Jukes, who was part of the handball team at the London Olympics, had the clothing and mementos taken from her car in Ipswich last week.
"Some amazing person handed in my Olympic kit to police," she said on Twitter.
"It had been dumped. Nice people still exist in Ipswich."
Ms Jukes uses the clothing, which includes her match kit and opening ceremony outfit, to inspire children to take up sport.
She had said the items had "no monetary value", but had a high sentimental value personally.
"Everything was still there," she said. "Which is amazing.
"I think someone must have thought it wasn't worth anything and dumped it.
"I have the number for the guy who handed it in to the police, I'll have to buy him a beer or something."
Ms Jukes said she would no longer be keeping the kit in her car.
"I'll have to keep it locked up," she said. "Either that or I'll have to wear all the clothes, all the time."