Suffolk surgery choir sings welcome message to find new GP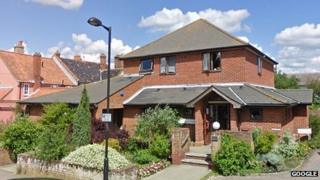 A medical practice has formed a choir to perform and make an appeal at an arts festival in Suffolk in a bid to attract a new GP partner.
Dr John Stammers, from Southwold Surgery, said advertisements to replace a partner who retired last October failed to produce any applicants.
People coming to the festival from other parts of the UK this weekend already know its charms, he said.
He hopes a visiting doctor will respond to the message and join the practice.
"When I saw an advertisement for a post in Southwold more than 12 years ago, my heart jumped and I applied and got the job fortunately," Dr Stammers said.
"I was brought up in Suffolk and knew its many attractions."
Recruitment difficulties
He hopes someone coming to the festival will hear the choir's programme and listen to the appeal.
"We are moving to a new purpose-built surgery in September and that's a further attraction.
"We have a patients roll of about 5,200 and many more during the summer with holiday visitors."
Dr Stammers said he was aware other practices in east Suffolk and parts of Norfolk were having difficulties in recruiting doctors.
Some practices in Norfolk had begun to deregister patients because of the pressure on their services.
"We would never do that as we are committed to the local community and want a doctor that would have the same attitude," he said.