'Stinky' stray Suffolk cat saved after Facebook plea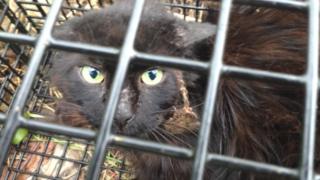 A stray cat with "stinking rotting flesh" from a wound was rescued after 15 Suffolk animal lovers answered a plea on Facebook to help find it.
The cat "evaded capture" for four days until Mick Smith lured it into a trap close to Laureate Gardens in Newmarket, using sardines as bait.
"Sardine" was taken to Lida Vets to be treated for an abscess on a bite.
His recovery will take "some time", a nurse said, but well-wishers have raised almost £1,000 for his treatment.
Mr Smith, who runs a lost and found pet page and a neighbourhood watch page on Facebook, became aware of the cat's plight after a woman said it had wandered into her home.
'Caring community'
"She said it was badly wounded and you could smell rotting flesh, so I realised it needed emergency treatment, but it had run off," he said.
Mr Smith mentioned it on social media in the hope someone knew where it was.
"On Thursday I was amazed when 15 people turned up to help me," he said.
The following day he spent "12 hours staking it out", trying to tempt it with food.
"People came from as far as 15 miles away to help me. We really do have a wonderfully caring community," he said.
A cat sanctuary donated a trap cage and by Saturday morning "Sardine" had been tempted in by sardines.
Veterinary nurse Natasha McCracken said the two-year-old animal "stank the surgery out, bless him".
His flesh had rotted down to his jawbone.
"He has had quite extensive treatment, and a good bath, but luckily he has no feline diseases," she said.
Having been neutered, Sardine is expected to spend the next few weeks recovering at Animal Craziness rescue centre in Ashley.
Mr Smith said: "I'm going to make sure he gets a good home and the break he deserves."