Latitude Festival introduces yoga and jogging for 2014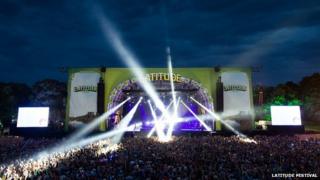 Suffolk's Latitude Festival has started and has introduced yoga, volleyball and jogging sessions this year.
The Henham Park event will be headlined this weekend by Lily Allen, Damon Albarn and The Black Keys.
Melvin Benn, festival director, said: "There's a new resident here in Henham Park and she was keen to introduce yoga in the campsites.
"It's the perfect addition and I'm rather cheesed off that I didn't think of it myself."
The festival near Southwold has a capacity of 35,000.
Yoga takes place with three separate sessions every morning, volleyball is ongoing and the 45-minute jog starts on Saturday morning.
"The festival doesn't necessarily get bigger every year, but it does change and we add little things because visitors don't want to see the same things every year," said Mr Benn.
"It's the right size for me overall."
Next year will be the 10th anniversary of the festival which began in 2006.
Lily Allen was brought in as a last-minute replacement to headline on the main stage on Friday after Two Door Cinema Club pulled out due to illness.
Festivalgoers had delays of several hours following an accident which closed the A12 at Yoxford, south of the festival site.
The road was closed for about four hours on Thursday after after a collision which left a lorry overturned in a field and a 45-year-old man driving a car was airlifted to the Norfolk and Norwich Hospital with life-threatening injuries.
Suffolk Police said he was in a critical but stable condition on Friday morning.