David Ruffley: Domestic violence group calls for MP to consider his position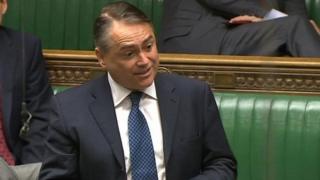 An anti-domestic violence body calls for a Suffolk MP to "consider his position" after he was cautioned for a reported assault on his ex partner.
The police caution was given to David Ruffley, Conservative MP for Bury St Edmunds after officers were called to an address in London in March.
Mr Ruffley has yet to comment publicly on the incident.
Suffolk's Domestic Abuse Partnership said he needed to clarify what happened and his silence was "misguided".
Mr Ruffley, a former shadow police minister, was arrested at an address in Marsham Court, Pimlico on 15 March.
Jenny Antill, the Partnership's chair and also a Conservative county councillor, said: "I feel David Ruffley should consider his position. He is a representative of a party that has stood out firmly against domestic abuse in all its forms.
"I find it [his public silence] unfortunate and misguided and it would have been far better for him to have spoken about this situation openly.
"If he faces up to this, and possibly apologises, it is not impossible for him to continue as an MP, but he needs to say something and clarify his position."
Bury St Edmunds Conservative Association has said it would be taking no further action and it considered the matter closed.
Joanna Spicer, Conservative county councillor and former chair of the Suffolk Police Authority, said: "I have spent 25 years in Suffolk campaigning against all forms of domestic abuse.
"Given the publicity the incident has had and the issues it has raised about violence against women, it is important the Conservative Party both nationally and locally take the earliest opportunity to make clear they are fully in support of all the policies and all the people that work in the field of domestic abuse."
Simon Potts, former vice chairman of the local Conservative Association, said: "A number of prominent people have rallied and said this has got to be brought to a head.
"I believe this has caused a lot of us to believe his credibility has gone... and I would ask that he stands down at the next General Election."