Ipswich's Tower Ramparts to change name in £4m revamp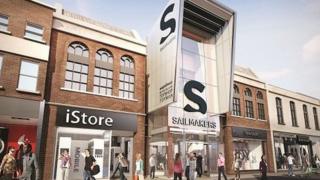 A £4m plan to revamp and rename a shopping centre in Ipswich has been unveiled.
Tower Ramparts will be renamed Sailmakers and a new design will draw on the town's maritime heritage, according to plans submitted to Ipswich Borough Council.
New entrance designs will be based on the Thames barges that once sailed along the River Gipping.
The plans will be on show at Tower Ramparts from Friday.
Gavin Ingram, of LaSalle Investment Management, which owns the centre, said: "With the new name, we wanted to reflect Ipswich's rich history as a trading port.
"Sailmaking was one of the major industries of Ipswich in past years, and helped it to develop from a small port into the busy town of today.
"This new vision is in line with the borough council's broader plans for developing Ipswich as a waterfront town centre."
John Dugmore, chief executive of Suffolk Chamber of Commerce, said: "This investment is a clear indicator that this strategy is the right one and retail will continue to play a leading role in the offer of our county town."
LaSalle Investment Management bought Tower Ramparts in 2011 when many of the shop units were vacant.
The firm described the state of the shopping centre at the time as "neglected" and "tired and in need of revitalisation".