Piglet rustlers in Cavenham make off with 102 animals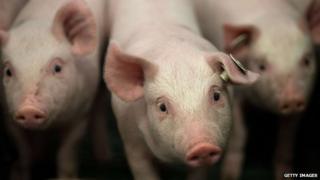 More than 100 piglets thought to be worth about £3,000 have been stolen from a farm in Suffolk.
Witnesses reported hearing the animals squealing as they were taken from a farm near The Street in Cavenham on Wednesday afternoon.
Two men were seen taking the 102 piglets from a pen and loading them into a green trailer pulled by a 4x4 vehicle, Suffolk Police said.
The National Farmers Union said an average piglet was worth about £30.