Ipswich 'pig in residence' house for sale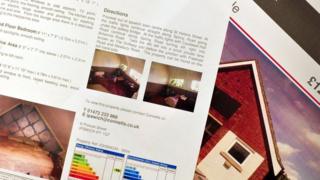 A picture for a house on sale in Suffolk was removed by estate agents when it emerged it showed a large pig at rest in the living room.
On sale for £120,000, the detached one-bedroom property sits on a private road in Ipswich.
The particulars featured a picture of the living room of the house - which included a pig with its head resting on a settee.
Estate agents Connells said the pig in the photo was the home owner's pet.
"However, the photo was put up in error and has since been removed," a spokeswoman for the company said.
In the particulars for the property, Connells described the former meeting house as a "unique one bedroom detached house". Although the agency has removed the image from its website, it still appears in publicity material.
The house sale has sparked interest on social media, where some have enquired whether the pig is included in the sale.