Long Melford peregrine falcon: Reward over shooting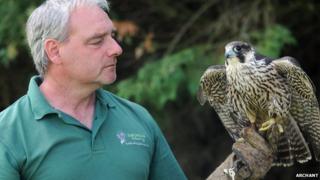 A bird of prey has been found shot in Suffolk, leading to a £1,000 reward to find those responsible.
The juvenile peregrine falcon was being treated after being discovered injured in Long Melford.
Experts said the bird, which was possibly bred in Bury St Edmunds, was found by a member of the public next to Chad Brook on 20 August.
The RSPB said it was illegal to kill peregrines and the reward would be given upon conviction.
Mark Thomas, RSPB officer, said: "This bird had recently left its nest and has already been shot, presumably by a person who intended to kill it.
"Numbers declined during the last two centuries due to illegal killing, but unfortunately we are still having birds shot and poisoned."
---
Peregrine falcon facts
largest British breeding falcon with a body length of 15-19ins (38-48cm) and a wingspan of 37-43ins (95-110cm)
top speed of about 200mph (320km/h) when diving
breeding pairs stay together for about 10 years
mainly feed on medium sized birds, such as pigeons
population was at a low in the 1960s
currently about 1,400 breeding pairs in the UK
Source: RSPB and Lavenham Falconry
---
The juvenile is being treated at Lavenham Falconry in Monks Eleigh.
Steve Younge, from the falconry, said: "I think she will survive. We've just removed the bandage from the wing and it's gone back into its correct position."
Steve Piotrowski, from the Suffolk Ornithologists Group, said: "The last breeding pair of peregrines in Suffolk were recorded in 1800 at Corton Church, although breeding attempts have been made recently at Lowestoft, Felixstowe Port, Sizewell nuclear power station and the Orwell Bridge.
"There is a box at British Sugar in Bury St Edmunds, so this juvenile possibly came from there.
"It's a tragedy as she was pioneering into new areas and this may be a set-back."
The RSPB said anyone with information about the shooting should contact them or Suffolk Police.