£4m plans for Ipswich's Tower Ramparts backed by council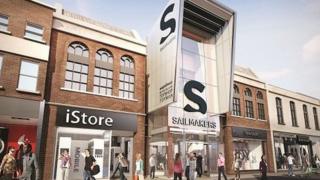 A £4m revamp of a shopping centre is set to go ahead, as council planners have recommended that designs are approved.
Tower Ramparts in Ipswich is due to be renamed Sailmakers, with "extensive internal renovations" drawing on the town's maritime heritage.
New entrance signs, based on the Thames barges that once sailed along the River Gipping, will also be installed.
Ipswich Borough Council is to discuss the planning application on 1 October.
Officers said the plans were of a "high standard of design" and would enhance the area without "detriment to listed buildings".
LaSalle Investment Management bought Tower Ramparts in 2011, when many of the shop units were vacant.
The firm described the state of the shopping centre at the time as "neglected" and "tired and in need of revitalisation".