Bramford Fisons factory site: Plans for 170 homes approved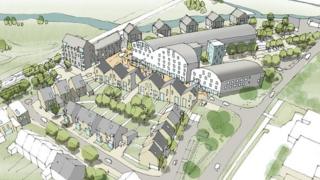 A Victorian fertiliser factory, described as an "eyesore", is set to be turned into a £20m housing and business park after plans were backed.
Paper Mill Lane Properties wants to develop the former Fisons site at Bramford near Ipswich, which features a wooden warehouse thought to be one of Suffolk's largest listed buildings.
Mid Suffolk District Council has granted planning permission for offices and 176 homes.
Fisons was based there until 2003.
The land off Paper Mill Lane, next to the River Gipping and railway line, was first developed from 1851 to 1854 as a fertiliser plant by Packards, but the large Grade II-listed wooden warehouse was built when Fisons arrived.
The developer has been granted permission to build 73 homes immediately, with outline planning permission granted for a further 103 homes, along with offices, shops and a restaurant.
'It's deteriorating'
Kathie Guthrie, Conservative chairwoman of the planning committee, said: "I believe it is one of the largest listed buildings in Suffolk and will be a huge project to take forward.
"The design is innovative and it will give the whole derelict area the 'wow' factor with employment opportunities as well as quality modern homes."
English Heritage, the Suffolk Preservation Society and Bramford Parish Council supported the latest application.
John Field, Liberal Democrat councillor for Bramford at Mid Suffolk, said: "The site is an eyesore and it's deteriorating.
"Although parts of it will be demolished, the overall development is sympathetic towards a site of historic importance to the village.
"The developer has consulted with local people and taken notice of their views, although foot and cycle paths around the site do need improvement and that is something we still need to work on with the developer."
The developer has been unavailable for comment.