Simon Warr sex abuse trial: Suffolk teacher denies indecency in showers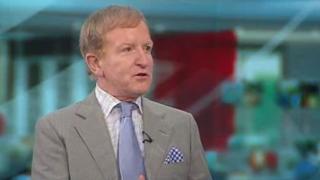 A former teacher and BBC contributor accused of sexually abusing pupils has told a court he did not linger around school showers.
Simon Warr, 61, denies seven charges of gross indecency or indecent assault.
The offences are alleged to have occurred at two boarding schools in Suffolk in the 1980s and 1990s.
Mr Warr also said he had never caned anyone - apart from television presenter Adrian Chiles, on BBC programme The One Show, as "a joke".
'Trousers down'
The jury in the trial at Ipswich Crown Court heard evidence from two former pupils of the fee-paying St George's School in Great Finborough, near Stowmarket, where five offences are alleged to have taken place in 1983-84.
Both men, who were under 12 years old at the time, claimed Mr Warr, from Hounslow in west London, had watched boys in the showers after PE.
Giving his evidence, one alleged Mr Warr had touched his genitals, claiming he needed to check they were clean.
Mr Warr denied those accusations and told the jury he had "rarely ventured into shower blocks".
Asked by his barrister, Matthew Gowen, if he had ever "lingered around the showers", Mr Warr replied "no".
Prosecutor Andrew Thompson told the court Mr Warr was said to be present on one occasion when the school's then headmaster, Derek Slade, made a group of pupils strip off their underwear before beating them for misbehaving.
Slade was imprisoned in 2010 for 32 sexual and physical offences against pupils during Mr Warr's time at the school.
Mr Warr told the court he "couldn't remember" if he had been in Slade's office at the time.
"I would have reported him if he'd asked them to take their trousers down," he told the jury.
Rejecting allegations he had been a "tyrant" who rapped pupils' knuckles, Mr Warr said he had "never administered corporal punishment in 35 years of teaching".
"I never caned anyone," he said, "except [BBC television presenter] Adrian Chiles on The One Show, and that was a joke."
Jokey nickname
Two of the seven charges Mr Warr faces relate to offences alleged to have taken place at the Royal Hospital School, Holbrook in 1994.
He told the jury his actions - which he said included trying to swipe a boy's towel away and making to pinch his bottom - were "a joke", and had no sexual element to them.
He said he enjoyed a very good relationship with pupils in his role as house master, and many of them would "jokingly" refer to him by a nickname, "Pecker".
Mr Warr was a regular contributor to BBC Radio Suffolk and BBC Radio 2's Jeremy Vine show.
He also featured in Channel 4's reality show That'll Teach 'Em and was a contestant on Mastermind.
The trial continues.