Long Melford peregrine falcon: Foot injury revealed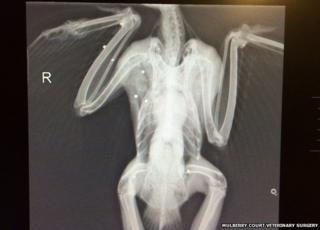 A wild bird of prey which was shot in Suffolk may not make a full recovery, it is feared.
The juvenile peregrine falcon was discovered injured in Long Melford on 20 August.
The Raptor Foundation, which is caring for the bird in Cambridgeshire, said its wings were healing but it was unclear whether there was lasting damage to its dislocated foot.
The bird needs its talons to catch prey in the wild.
Early X-rays revealed shot in the torso and one wing and it was hoped she could be released in September.
But Steve Younge, from Lavenham Falconry where the bird was initially treated, said: "The right wing had healed, although we were keeping the bird in a box, so it hadn't flown yet.
"So that was a step forward, but then we had a step back with the talon."
The Royal Society for the Protection of Birds (RSPB) took charge of the bird and it was transferred to the Raptor Foundation at Woodhurst near St Ives.
The falcon has been treated with anti-inflammatory drugs and pain killers, but the foundation said it was a matter of waiting to see if there had been lasting damage to ligaments in its foot.
Simon Dudhill, an administrator at the foundation, said: "It can fly in our aviary, but not as well as we would want it to before considering a release.
"If the talon can't function, it can't catch food.
"We are constantly assessing the situation, but cannot estimate the length of a recovery period."
The RSPB has offered a £1,000 reward for information leading to a conviction for the shooting of a protected species, but Suffolk Police said no-one had been arrested yet.