Simon Warr sex abuse investigation in 'public interest'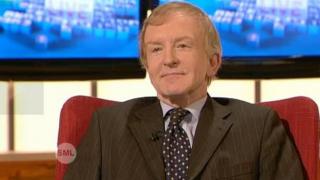 Pressing sex abuse charges against a teacher who was cleared by a jury in less than 40 minutes was in the "public interest", Suffolk Police has said.
A jury at Ipswich Crown Court returned not guilty verdicts for all seven charges against Simon Warr on Tuesday.
Mr Warr, 61, from Hounslow, said he had lost his home, his job and friends since being arrested in December 2012.
Suffolk Police said it carried out a "thorough investigation" after receiving complaints about Mr Warr.
The allegations related to two former pupils of St George's School, near Stowmarket, and a former pupil of Royal Hospital School, Holbrook.
After he was arrested, Mr Warr was suspended from the Royal Hospital School and no longer appeared as a pundit on BBC Radio Suffolk.
"I went from being a happy go lucky character to a very dark place," Mr Warr said after the jurors had returned their unanimous verdicts.
"Unfortunately for me it's taken a long time for this case to come to court. It was due in April but because some of the papers weren't prepared in time I had to wait for another six months.
"It's an extraordinary situation."
Mr Warr said he believed the allegations were made "on the shirt tail of Derek Slade", the former head teacher of St George's who was jailed in 2010 for sexually abusing pupils.
Frank Ferguson, deputy chief crown prosecutor for the Crown Prosecution Service, said allegations of sexual assault made years after the event were "difficult".
"We were satisfied there was sufficient evidence for a realistic prospect of conviction and it was in the public interest to prosecute," he said.
Mr Ferguson said the judge could have stopped the trial, which lasted seven days, after the prosecution had outlined its case.
"In this case, the judge felt there was a case to answer," he said.
"The jury decided Mr Warr was not guilty of all the charges against him and we respect their verdict."