Ipswich missing cat map created as 185 pets disappear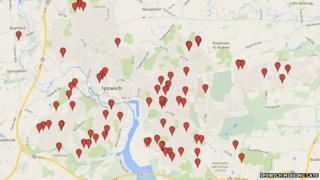 A map showing where more than 180 cats have gone missing in Suffolk has been created by a group trying to track down a possible thief or "cat killer".
Deni Parkes set up the Ipswich Missing Cats group on Facebook earlier this month. It now has 185 reports of cats missing for up to eight months.
"That many cats simply do not go missing with no bodies being found," she said.
Suffolk Police has met with the group to discuss to their concerns.
Ms Parkes set up the group after seeing an increasing number of reports of missing pets on social media sites.
Within a week, 108 cats were reported to the site.
Her group now has more than 2,000 members and reports of cats missing mainly from Ipswich, but also from Stowmarket, have increased.
"We think someone is taking them for baiting in dog fights or worse," she said.
The group is now planning to register as a charity in order to raise awareness of an issue Ms Parkes said she suspected was "widespread and not restricted to Suffolk".
"We're in touch with a similar group in Northampton where police are investigating reports of 30 missing cats.
"We're also raising money for a reward leading to a conviction," she said.
A spreadsheet detailing missing cat reports has been compiled and the new map has been shared with Suffolk Police.
"We hope it will help to show exactly how bad this problem is," Ms Parkes said.
A Suffolk Police spokesman said officers were investigating the "intentional killing or injuring of four cats since August" in the Ipswich area, but they were not able to help with missing animals.