Pet dog mauled to death in Ipswich garden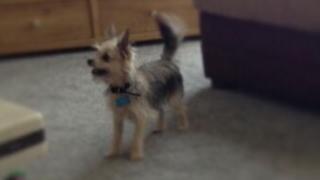 A pet dog was mauled to death and an elderly woman was bitten as a neighbour's dog ran amok in her garden.
Doreen Davidson, 81, was hurt as she tried to halt the attack on her Yorkshire terrier type dog Billy.
The neighbour's dog, thought to be a Staffordshire terrier, had got into the garden at the Ipswich house. It was later put down.
Mrs Davidson said: "It was absolutely dreadful. Poor little Billy, he couldn't do anything. He was my life."
Tetanus shot
She was putting rubbish in the bin when the dog appeared, possibly through a hole in the gate.
"All of a sudden this big black thing came and almost knocked me over," she said. "The dog got Billy cornered by the gate.
"The dog bit me when I tried to help. I had to have a tetanus shot."
Mrs Davison's neighbour telephoned police but by the time they got there her pet was dead.
The terrier's owner apologised to Mrs Davidson. Suffolk Police said it was aware of the incident.