Stowmarket music teacher Derek Cable 'abused boy'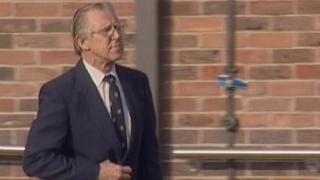 A former schoolboy said he was sexually assaulted by his music teacher in Suffolk in the mid-1970s.
Derek Cable, 74, of Albany Court, Hastings, Sussex, denies three charges of indecent assault.
His alleged victim, who was 11 at the time, told Ipswich Crown Court he was made to perform a sexual act on the defendant at Stowmarket Middle School.
The assaults are alleged to have happened during individual lessons.
The jury heard that Mr Cable was teaching at the school when the incidents allegedly took place in 1975 and 1976.
The court heard he ran several school bands and the schoolboy belonged to one.
'I was confused'
The former pupil, now 50, said he was having extra individual sessions on the trombone during lunchtimes.
He told the court that after three or four lessons, he was asked to go into a side room to collect some music.
He said Mr Cable followed him and put one hand on his hip and another on his crotch, over his school uniform.
The victim said: "I was confused. I don't recall him saying anything - he carried on with the rest of the music lesson."
He said in a subsequent lesson Mr Cable took his hand and guided it onto his crotch.
On the third occasion, the same thing happened, he said, but then he was made to perform a sexual act on him.
The alleged victim told the jury: "He [Mr Cable] said nobody else needed to know about it and, if I said anything, it would be a shame if I had to leave the band for any reason."
Asked by Mark Halsey, prosecuting, if he did tell anyone, the former pupil said: "I didn't feel like I could."
The trial continues.