Bury Town Football Club's new stadium plans fall through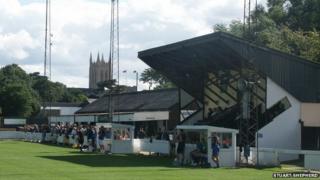 A Suffolk non-league football club has been told a proposed move to a new ground will not be going ahead.
Bury Town had hoped to move from its current Ram Meadow ground to a new community facility in Moreton Hall, Bury St Edmunds.
But St Edmundsbury Borough Council said the move was no longer feasible as the Suffolk FA had withdrawn funding.
Instead, the council said it would look to offer the club a longer lease at Ram Meadow and help improve the facilities.
'Need improvements'
Russell Ward, chairman of the Ryman League Premier Division club, said: "I am obviously disappointed but I appreciate that every effort has been made to deliver the Moreton Hall project.
"While that may not be achievable, I am encouraged by the conversations that I have had with St Edmundsbury.
"Ram Meadow is in need of improvements to its facilities and I am looking forward to working with the council to see what can be achieved."
St Edmundsbury councillor Sarah Stamp, cabinet member for leisure, said it was "disappointing" that the Moreton Hall project had fallen through.
"We are still working to deliver extensive community sports facilities as part of the new school on Moreton Hall. Facilities that will complement the existing leisure offer we have for those living in Bury and the surrounding villages," she said.
Ms Stamp said the council would work with Bury Town to "help the club plan for a long term, sustainable future".
Suffolk FA decided in October not to commit £250,000 towards the project.