New Bishop of St Edmundsbury and Ipswich to 'engage with poverty'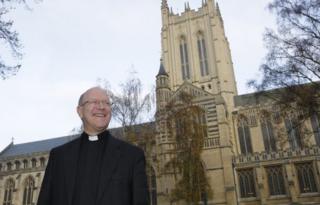 The new bishop for Suffolk says he will engage with deprivation and poverty when he takes up his post.
The Reverend Canon Martin Seeley, 60, will be the 11th Bishop of the Diocese of St Edmundsbury and Ipswich.
Currently the principal at Wescott House theological college in Cambridge, Canon Seeley will take up his role after Easter.
He will become the permanent replacement for Bishop Nigel Stock who left in 2013.
The acting bishop, the Right Reverend Dr David Thomson, will leave Suffolk to concentrate on his primary role as Bishop of Huntingdon in Cambridgeshire.
Woman bishop
Canon Seeley's previous posts have been in Scunthorpe, New York and the Isle of Dogs in London, but he said his first sermon was in Haverhill in Suffolk 40 years ago.
"We will also need to work hard to engage with changes in our communities and ensure the church's presence in new housing developments," he said.
He is due to sit on a panel that appoints a new Bishop of Dunwich - the second most senior post in the diocese - and it will be the first time the list of candidates could include a woman.
Canon Seeley said: "In any of these appointments you will appoint the person best for the role and what I look forward to is including women in that list, and that will be a really good opportunity for us in Suffolk."