Lowestoft high schools: Ofsted rates three 'inadequate'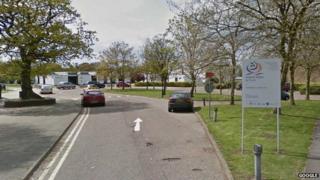 Three out of four high schools in a Suffolk town are in "special measures" following inspections.
Benjamin Britten High in Lowestoft has become the latest to be given an inadequate rating by Ofsted.
The Ormiston Denes and East Point academies already have that status.
Suffolk County Council, which introduced its Raising the Bar programme to improve standards, said action plans had been produced in conjunction with the schools.
Benjamin Britten's previous inspection in September 2013 rated it as "satisfactory" but "requiring improvement", but Ofsted said standards had now fallen because "leaders are unaware of its strengths and weaknesses".
Town 'let down'
Andrew Hine, head teacher, said: "We had a dip in exam results last summer and a very tense start to the autumn term.
"We're past that now and everybody's starting to work together to raise standards and the school's a far better school than the report might suggest."
Raising The Bar was introduced by the Conservative-run county council after the local education authority was ranked in the bottom 10 in the country for GCSE results and third bottom for primary school Key Stage 2 performance.
Labour county councillor Sonia Barker, who used to teach at Benjamin Britten, said: "Ofsted inspected the council and said its learning improvement service was ineffective and damaging the life chances of pupils.
"What's happened at Benjamin Britten High School is an example of this.
"A whole town is being let down."
'Not good enough'
Lisa Chambers, the council's Conservative cabinet member for education, said: "The outcomes for children are simply not good enough and we have a collective responsibility to acknowledge this and address it."
Denes High in Lowestoft was rated inadequate after a March 2013 inspection, but it has not been visited by Ofsted since it became the Ormiston Denes Academy.
East Point Academy, formerly called Kirkley High, was rated inadequate at the same time.
Lowestoft's fourth high school, Pakefield, was inspected in 2013 and rated "good".