Ipswich shop raid: Man found with serious injuries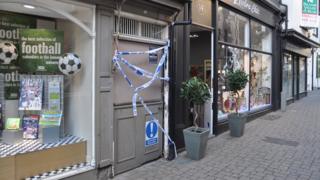 A man is in hospital with "life threatening injuries" after being found at the back of a shop that had been broken into.
The victim was found behind the Hawkshead shop in Ipswich at about 04:45 GMT by a "keyholder", who was answering an alarm activation.
Suffolk Police said the man, who is believed to be in his 40s, had sustained head injuries from a fall.
He was taken to hospital and has yet to be questioned about the incident.
Police said it was not known if anything was taken from the shop, which is on the Butter Market in the town centre.