Woodbridge train crash level crossing 'inadequate'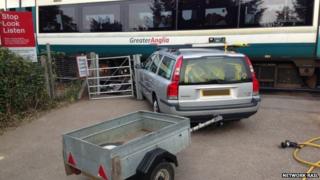 A level crossing where a train hit a car had "inadequate" instructions for motorists, an accident report found.
A male car driver sustained minor injuries when the train hit the car in Woodbridge, Suffolk, on 14 July last year.
The Rail Accident Investigation Branch (RAIB) said the crash could have been avoided if Network Rail had provided clearer crossing instructions.
Network Rail said it had since improved safety.
A spokesman said new signage had been added to the crossing at Jetty Avenue, along with a telephone.
"We are always looking for ways to improve safety at level crossings, including closing 500 crossings across the country over the next five years," he said.
"Where we cannot close a crossing we will look for ways to make it safer, which is what we have done at Jetty Avenue."
The RAIB report said the Volvo V70 was hit by the 18:04 BST service from Ipswich to Lowestoft, which was carrying about 100 passengers.
The train had slowed from 25mph (40km/h) to 13mph (20km/h) after the driver spotted the car.
The car driver was using the crossing to access a private boatyard and had looked down the line before returning to his car to cross. When he spotted the train he tried to reverse but could not find the correct gear.
The front of the car, which was towing a small trailer, was "seriously damaged" in the collision, the report said.
The train stopped after travelling a further 15m (49ft) and was not derailed.
The RAIB report made four recommendations to Network Rail about providing safer crossings.