Ipswich Broomhill swimming pool survey shows '95% backing'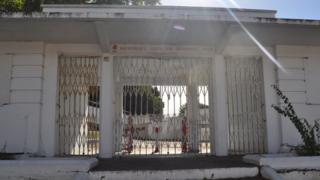 More than 95% of people who took part in a consultation into the reopening of an open-air swimming pool were "fully supportive" of the plan, a leisure charity has said.
Broomhill Pool in Ipswich closed in 2002 but the Fusion Lifestyle charity wants to bring it back to life.
About 3,300 people took part in its survey.
Fusion said it would be used as part of its bid to the Heritage Lottery Fund to get £2m for the £4m project.
The 50m pool with diving boards and a children's pool opened in 1938, but was closed by owners Ipswich Borough Council amid claims it was too expensive to run.
Fusion has taken over the project to reopen it and said it could make a £1m investment, while the council has pledged £1m.
Tim Mills, Fusion's director of development, said: "We think the 3,000-plus figure reflects real intent for the historic restoration of the pool.
"We are confident there are enough people who want to use the pool and the other facilities to make the entire development viable.
"We need to use this to demonstrate this support in the community to the Heritage Lottery Fund for our grant application."
Fusion said its proposals would also include gym and studio facilities similar to its operation at the Brockwell Lido in south London.
The charity said it needed a core of 1,600 users to make Broomhill Lido a financial success.
Fusion said the gym would be available all year round.
The pool would be seasonal at first but the firm wants to open it at other times of the year.