Scott Rogers: Abuse probe over murdered US TV host ends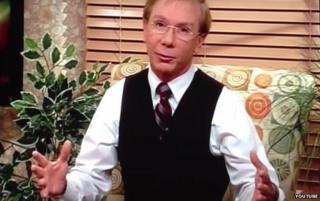 An investigation into abuse claims against a murdered US talk show host has been closed after no victims came forward, American police have said.
Scott Rogers, 52, a former dance academy teacher in Suffolk, was shot at his Louisiana home in August.
Local police began an investigation after two British men claimed to have been abused by Rogers.
The Iberville sheriff's office said the inquiry had been ended after no new evidence emerged.
Major Ronnie Hebert said: "After an examination of the mobile phones and computers we seized from the Rogers household as part of our investigation we didn't gain any additional information to what we already know.
"No further victims came forward to say they had been molested by Rogers and as a result we have closed the investigation."
In September, Tony Clayton, lead prosecutor, said there was "clear and overwhelming" evidence of abuse in both the UK and the US.
Mr Rogers was shot on the day he was due to appear before a grand jury over allegations he falsified documents in fostering children.
He was killed, it is believed, by his ex-lover and son-in-law Matthew Hodgkinson, 36, who then turned the gun on himself in a "murder and attempted suicide", said police.
Mr Hodgkinson later died in hospital when his wife, Kimmie Scott-Rogers, "pulled the plug" on his life support machine.
It is alleged Mr Rogers failed to declare the fact he had previously been arrested in the UK, over offences of which he was later cleared.
He left the UK in the mid-1990s after founding a dance and performing arts academy in Bury St Edmunds, Suffolk.
In 1995, it was likened to a cult by Suffolk County Council.
Suffolk Police started an investigation into abuse claims against Rogers following his death but it has also been closed.
A spokeswoman said: "No further persons have come forward to the police and there is no active investigation.
"Police will respond to any allegations and complaints of abuse by taking detailed accounts of the offending and ensuring victims are directed, where necessary, to specialist support services."