Halesworth flood warning lifted by Environment Agency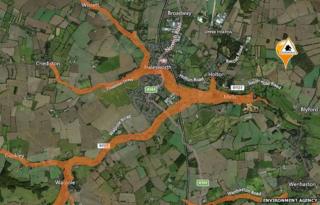 A flood warning for a Suffolk town after heavy rain hit the area overnight is no longer in force, said the Environment Agency.
Rising river levels on the Chediston watercourse in Halesworth looked likely to cause flooding earlier.
A flood alert remains in place at Suffolk Coastal affecting the rivers Blyth and Walpole.
River levels are likely to rise slowly, especially in the area of Wrentham, until at least 17:00 GMT.