Suffolk overdue library books are worth £529,000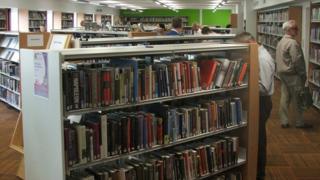 Suffolk's public libraries service has revealed there are 21,000 overdue library books in the county.
The service, which is run by a not-for-profit provident society called Suffolk Libraries, said the replacement value of the books was £529,234.
The most overdue book had been missing for seven years and five months.
The service said it charged 13p a day on overdue books, but the maximum fine was capped at £6.37.
The most overdue book was Dromengo: Man of the Road by Sven Berlin, which has a retail price of £35. It was supposed to be returned on 4 July 2007.
New year amnesty
Alison Wheeler, general manager, said: "We're not complacent about it because it's a substantial loss.
"We don't badger people, because it costs a lot of money to pay someone to pester them.
"There are lots of things you can do and we're planning to have an amnesty in the new year, because people can feel they owe a lot of money and are too scared to bring items back.
"It doesn't bring back the bulk of the items, but the reality is that you do lose books.
"Just pushing up the fines, I believe, will discourage people from returning books."
Suffolk Libraries was set up to take over the running of Suffolk County Council's 44 libraries in 2012.