RAF Mildenhall: Business concerns as USAF to leave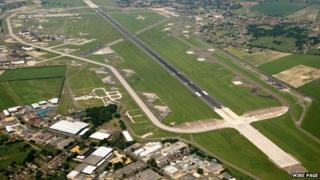 The US Air Force's departure from RAF Mildenall could mean a loss of business for firms near the Suffolk airbase, local traders have said.
Over 4,000 US and UK nationals who work at the base are set to be gone by 2020.
The USAF estimated RAF Mildenhall was worth $331m (£219m) to the local economy in 2013-14.
Local businesses said an increased US presence at neighbouring RAF Lakenheath may partially offset any loss of custom.
The US announced on Thursday it was going to end its lease of Mildenhall, along with its use of RAF Alconbury and RAF Molesworth in Cambridgeshire.
The USAF said Mildenhall had 3,290 US service personnel, 361 US civilian staff and 694 UK civilian staff, as well as 3,000 dependents.
Paul Webb, who runs a sandwich bar in Mildenhall town centre, said 60% of his business was linked to the base.
"It's certainly not going to be good news for us," he said.
"Hopefully it won't mean the end of things for us, but I'm definitely concerned."
'Job reductions'
Moving and storage company Safepac International employs 100 people in the town.
Bill Flynn, from Safepac, said: "In the short term, it could have a positive effect on business as they're moving personnel back to America which would require our services.
"But in the long term business would reduce and that could easily lead to job reductions."
Mildenhall has about 10 letting agencies.
Carol Jaggard, who runs Beatrice Carter Property, said about 90% of its 150 managed homes were rented by Americans.
"We love the Americans and we've done very well out of them, but I don't think we'll be closing as we've got a lot of potential at RAF Lakenheath."
The USAF also announced two squadrons of new F-35 jets would be arriving at Lakenheath by 2020 resulting in an extra 2,742 US military and civilian personnel.
They estimated it would bring in an extra $87.4m (£54.9m) to the local economy each year.
'Alternative uses'
The UK Ministry of Defence said it had yet to decide whether RAF Mildenhall would have a military use once the USAF left.
Philip Dunne, defence minister, said: "We've been undertaking a base rationalisation in the UK anyway and we've chosen RAF Marholm in Norfolk as the future operating base for combat jets, so we will look to see if there is an RAF requirement for Mildenhall.
"If we decide the base isn't required by the ministry, then we'll look at alternative uses."
Matthew Hancock, West Suffolk MP and business and enterprise minister, said he was heading a working group that would look at the future role of RAF Mildenhall.
"We've got four years, so let's use that time wisely (and) think about what is the best use for what is an enormous site."
Richard Bond, the BBC East business correspondent said: "It's a bleak time for Mildenhall, but the future is not entirely without hope.
"The town sits a short distance from the newly dualled A11 and with time and a lot of hard work, its economy could make the transition away from a reliance on military spending."