Lowestoft beach secures £2m to combat erosion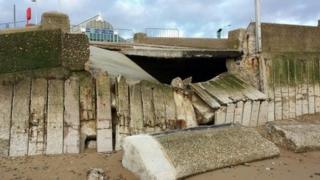 Further work aiming to prevent beach erosion in a seaside town is set to begin after £2m of funding was agreed.
Children's Corner, in Lowestoft, has had limited access due to loss of sand and the collapse of the sea wall during the storm surge of December 2013.
The Environment Agency will spend £2m on repairs, while Waveney District Council will contribute up to £450,000.
The council said work would start in March and it hoped it would be completed by the summer.
Last year, 6,000 tonnes of rock was positioned on the beach to protect the sea wall but security fencing has remained in place around damaged sections of the sea wall.
The next phase of work will include replacing the ramp to the beach outside the East Point Pavilion, the creation of further rock structures on the beach and the transfer of sand from south of Claremont Pier to the eroded area.
A pedestrian guard railing will also be installed on top of the sea wall, from Parade Road South to the pavilion.
Councillor David Ritchie, Waveney's cabinet member for planning, said: "We are aware of the importance of the Children's Corner area and will endeavour to restore public access to this part of the beach as soon as possible."
The council said it would create a "modest" beach at Children's Corner but a wide beach was not possible as it was "under unusually high erosion pressure" at the moment.