Suffolk flood misery for Southwold Harbour Inn landlord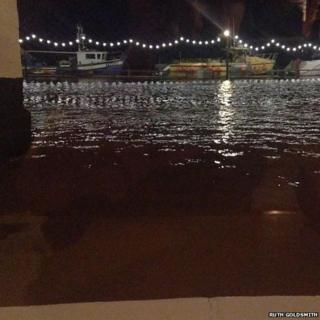 A pub landlord is counting the cost after a Suffolk river burst its bank, flooding the building.
Water began "bubbling up" into The Harbour Inn in Southwold at about 22:00 GMT, Nick Attfield said.
Damage was limited as the Environment Agency had issued warnings, but the cost of closing for 48 hours and paying 20 staff to "clean up the mud" would be about £5,000, he said.
The Environment Agency issued 13 flood warning for parts of Suffolk overnight.
These have now been lifted.
Mr Attfield, who took over the tenancy of the pub four-and-a-half years ago, said flooding was an "occupational hazard" as it lies on the bank of the River Blyth.
'Mud and goo'
"It's a beautiful place when it's not actually in the river."
He closed The Harbour Inn after lunch on Saturday after receiving flood warnings from the agency.
At high tide, at about 01:30 GMT, parts of the building were under about two feet of water, he said.
A freezer was "written off" and two fryers in the kitchen were damaged but staff had had time to remove the old wooden doors and furniture before the water came in.
During the night, Mr Attfield updated customers on social networking site Twitter, saying: "Pub now filling up fast and a big bit of wood just floated past."
"This morning I've got about 20 staff in cleaning up the mud and the goo, and hopefully we'll be open again on Monday," Mr Attfield said.