Police called over geese debate filming dispute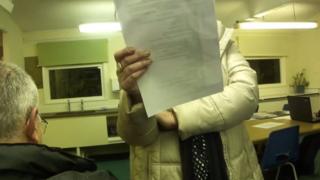 A row which erupted over the filming of a parish council meeting debating geese resulted in the police being called.
People attempting to record proceedings at Beyton Parish Council were blocked by others attending the meeting.
Chairman Roger Wyartt said the disruption was caused by "a small minority" of people who oppose the re-introduction of geese to the village green.
Suffolk Police confirmed it was called over a dispute about filming.
A force spokeswoman said officers did not attend as they were later informed "everything was in order".
Last year, a change in law enabled members of the public to film, tweet, or blog open local council meetings.
"We don't think filming contributes anything at all to the running of the parish. It's a waste of time and a burden on councillors doing voluntary job," said Mr Wyartt.
"It opens us up to ridicule."
A video posted on YouTube shows a woman trying to prevent Beyton Parish Council's meeting on 5 January from being filmed by a member of the public.
The BBC was unable to contact the woman who filmed the video for comment.
The council said it had allocated an area from which proceedings could be filmed, and the woman had chosen not to use that area.
The geese were re-introduced to the green last year after 75% of villagers voted to restore the population.
But there has been a complaint to the RSPCA about the rise in numbers and concerns about bird faeces around the green's play area.