Ipswich town square revamp 'has stalled'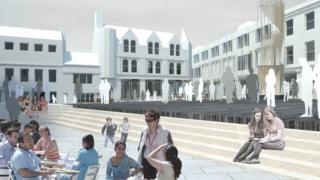 Businesses leaders have expressed frustration at progress in securing £3m needed to revamp Ipswich's main square.
Ipswich Central, which represents businesses in the area, said it had secured £800,000 from the borough council, but needed money from the county council.
A winning design for Cornhill was revealed last year.
Suffolk County Council said it had committed £21m to other parts of the town centre.
Ipswich Central wants to redevelop Cornhill as part of its long-term plans to attract more shops and visitors.
The comments about funding Cornhill came after Conservative-run Suffolk County Council announced it would be spending about £1m to pedestrianise Queen Street and Princes Street around the Giles Circus statue, allowing the market on Cornhill to expand.
The Cornhill redesign includes building a raised platform to level-out the square, which currently slopes, and creating a steel and glass tower sculpture.
Paul Clement, chief executive of Ipswich Central, said: "It's taking too long, I'm frustrated and we need to kick those that can make it happen.
"It is something that mustn't go on the back burner as it is a project that is probably the most important thing in terms of transforming people's perception of retail in the town."
A Suffolk County Council spokesman said the authority was "100% committed to seeing Ipswich thrive as a busy and bustling town".
"[This] can clearly be seen through our key investment in transport infrastructure, with over £21m spent in the last few years.
"Our announcement to further develop the Giles Circus area will transform it and improve the much-needed link between the centre and the waterfront."