Suffolk suspected drugs deaths: Adrian Lubecki admits offences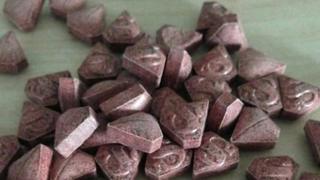 A man has admitted drugs offences after three deaths which are suspected of being linked to a batch of "Superman" ecstasy tablets.
Three men died in Suffolk over the Christmas period.
Adrian Lubecki, 19, of St Matthew's Street, Ipswich, pleaded guilty at Ipswich Crown Court to two drugs supply offences.
Police were waiting for toxicology reports into the deaths of the men who were believed to have taken the drug.
Justas Ropas, 22, was found at a house on Bramford Lane, Ipswich on 24 December while Gediminas Kulokas, 24, died at Provan Court in the town on New Year's Day - his birthday.
John Hocking, 20, of Woodbridge, was also found dead on New Year's Day at an address in Rendlesham.
Post-mortem examinations had taken place on the three men, but Suffolk Police have yet to confirm whether the deaths were a result of them taking a batch of ecstasy with the Superman "S" logo on them, which they said was believed to contain a substance called PMMA.
Inquests into the three deaths are due to open in Bury St Edmunds on Friday.
Lubecki admitted being concerned in the supply of ecstasy and being in possession with intent to supply amphetamines.
The prosecution at Ipswich Crown Court said Lubecki had supplied a drug to a man who later died.
He is due to be sentenced on 16 February.
West Mercia Police were investigating whether the death of a 27-year-old man in Telford, Shropshire on New Year's Day was connected to a similar batch of ecstasy.
Damian Malolepszy, 28, of Woodside Road, Ketley has been charged with drugs offences relating to that death and he is due at Shrewsbury Crown Court in March.
West Mercia and Suffolk police said they were continuing to investigate whether all the deaths were linked.