'Lost' John Constable painting fetches £3.4m at auction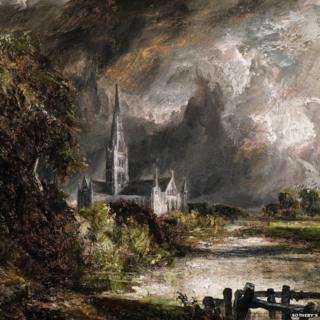 A painting bought for £3,500 just 18 months ago has sold at auction in New York for about £3.4m ($5m) after John Constable was confirmed as its creator.
The oil painting was originally thought to have been the work of a "follower" of the Suffolk-born artist.
After parts of it were cleaned, Tate Britain expert Anne Lyles confirmed it was a "lost" Constable.
She said the work was a preliminary sketch for Constable's "masterpiece", Salisbury Cathedral from The Meadows.
'Exciting and important'
In July 2013 an unidentified buyer acquired the 18ins by 24ins (46cm by 61cm) painting at Christie's in London for £3,500.
The purchaser suspected the painting might have been doctored and that was confirmed by Ms Lyles, a leading authority on Constable's work after some added brushstrokes were removed.
"This oil sketch is one of five preliminary oil sketches which Constable made for Salisbury Cathedral From The Meadows, which is perhaps the greatest of his late masterpieces," she said.
Ms Lyles said the work was "hitherto completely unknown to scholars".
"It is one of the most exciting and important additions... to have emerged in recent decades," she added.
The guide price at Sotheby's in New York had been between £1.3m and £1.9m.
Constable was born in East Bergholt, Suffolk, in June 1776 and died in April 1837.