Injured motorcyclist Glynn Turner '20% liable for crash'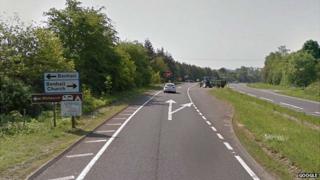 A motorcyclist seeking compensation for life-changing injuries was 20% liable for his crash, a court heard.
Glynn Turner, 48, who hit traffic signs on the A12 in Suffolk in 2010, is still "minimally conscious" and needs round-the-clock care.
He reached an agreement with Suffolk County Council and the road contractors, Carillion AM Government.
The High Court heard that the contractors were 80% liable for any compensation.
Safety breach
Mr Turner, a father of three, was travelling south at Benhall near Saxmundham on 7 June 2010 when he hit signs warning of a road closure at a nearby junction. The former Sizewell B worker's family said he now lived in an NHS-funded care home.
Wolverhampton-based Carillion had already been fined £180,000 for breaching health and safety laws.
In 2013, Ipswich Crown Court heard that the firm put warning signs less than 215 yards (200m) from the junction. It should have placed them at least 860 yards (800m) ahead.
Suffolk County Council did not face a criminal prosecution. Mr Turner's solicitors launched a damages claim against the county council and Carillion.
The High Court heard that the defendants had admitted primary liability in an out-of-court agreement, but they said that Mr Turner contributed to the accident by driving too fast and failing to heed warning signs.
Mr Justice Warby approved the deal on behalf of Mr Turner, who is unable to represent himself legally.
A Carillion spokesman said the firm regretted the injuries suffered by Mr Turner and was pleased that liability had been resolved.
A Suffolk County Council spokesman said that negotiations on a final settlement were ongoing.