'Del Boy' sheepskin firm Nursey closes after 169 years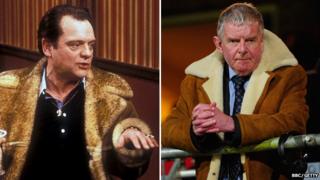 A sheepskin clothing firm that clothed Del Boy in television's Only Fools & Horses, is closing for good after 169 years because of falling trade.
Nursey Sheepskin, in Suffolk, opened in 1846, but shuts on Saturday.
Despite claims in The Guardian this week that sheepskin is back in fashion, Nursey said it was not profitable.
The Bungay firm also listed BBC football commentator John Motson and guitarist Eric Clapton as customers.
Owner Tim Nursey, said: "It makes a good fashion story, but it doesn't translate into massive sales."
The firm said David Jason, who played Del Boy, bought coats for his personal use as well.
'Not as cold'
It had 85 staff in the mid-1980s, but Mr Nursey said it had not made a profit for six years and only employed seven people last year.
The company said "hundreds" of the smaller shops it supplied had disappeared and it had not been able to make up the lost sales on the internet.
Mr Nursey, 64, said: "We were late getting into the internet, but in the last four or five years we tried hard to get into it.
"We needed to do at least three times the business on it to replace what we have lost.
"The weather's not as cold, it's not a dry cold for as long a period as it used to be, and sheepskin isn't good in the rain which are other factors."
The firm said it had sold the Nursey name for use in Japan and was hoping to secure a similar deal in the UK.
From 1 April, the company said it would be leasing out its buildings on Upper Olland Street, Bungay.