Freston church: Toby Millett admits exposing himself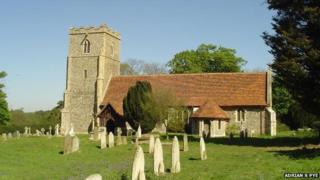 A 40-year-old man has admitted exposing himself in a church porch, having walked around the churchyard with a wreath from a war memorial on his head.
Toby Millett, of Harkstead, near Ipswich, was charged with engaging in indecent behaviour at St Peter's Church in neighbouring Freston.
The offence was recorded by CCTV at 01:40 GMT on Sunday 21 December. Police believe no-one else was there.
Millett is due to be sentenced by magistrates in Ipswich on 3 February.