Suffolk house kitchen wall demolished by lorry crash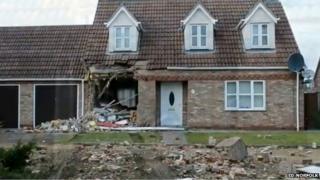 A lorry has smashed into a house in a Suffolk town, causing serious damage to the property.
The delivery lorry hit the house on London Road, Brandon, on Thursday lunchtime, demolishing a kitchen wall.
One man, thought to be an American serviceman from nearby RAF Lakenheath, was the only person in the house at the time of the crash. He was not injured.
The family, who live in the house, were found alternative accommodation while a structural engineer assessed damage.
Suffolk and Norfolk fire services sent appliances and a spokesman said the lorry driver had to be released from the cab after being trapped.
He was taken to hospital but no further details on his injuries were available.