Ed Sheeran to get Madame Tussauds waxwork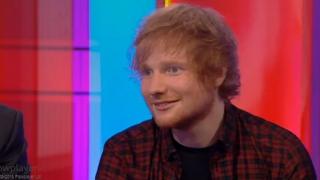 Pop star Ed Sheeran has been measured by Madame Tussauds staff so they can create a waxwork effigy of him.
The waxwork company confirmed it had plans to add Sheeran to one of its six museums in the US.
Sheeran said being measured in his underwear was "one of the weirdest experiences of my life".
Madame Tussauds could not confirm when the waxwork would be ready for display or which museum it would go in.
Sheeran, who grew up in Framlingham in Suffolk, said: "They put me in skin-tight grey shorts and vest, which doesn't leave much to the imagination.
"Then they just measured me for three hours, prodded and poked and filmed it."
Madame Tussauds has five existing US museums in Hollywood, Las Vegas, New York, San Francisco and Washington DC and plans to open another one in Orlando this year.