Akenfield: Rural Suffolk film to be digitised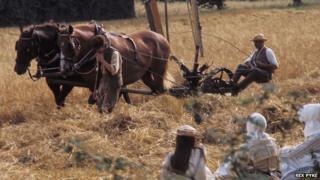 A film depicting the rural lives of Suffolk villagers in the 20th Century is being digitised to bring it to a "wider audience".
Akenfield, a fictional account of life from 1900, using local people as actors, was first shown on ITV in 1975.
The British Film Institute is in the process of digitising it for a new release.
Rex Pyke, producer of the original film, said it offered people the chance to see "a different way of life".
Based on Ronald Blythe's 1969 book of the same name, Akenfield was filmed by Sir Peter Hall in Charsfield and neighbouring villages.
An East Anglian Film Archive spokesman called it "a drama about change and a significant record of Suffolk life".
It was first shown at the London Film Festival in 1974 and was given a general cinema release on 26 January 1975.
On the same day, its television screening attracted 14 million Sunday evening viewers, its producers said.
Mr Pyke said: "Akenfield will be available all over the world on mobile devices.
"One of the great pleasures of the film was the loose outline, with no written dialogue and people invented roles for themselves."
Peggy Cole, now 79, played the Dulcie Rouse - the mother of the film's central character Tom.
She said: "It showed how times were hard and people forget today, that years ago, we relied on the farmer to grow all we eat and that houses were poor with no electric or running water.
"I think it was best seen in the cinema but the TV premiere was still exciting and I'm told the digitisation will make it even better."