Ipswich Crown car park: £2m to be spent on new level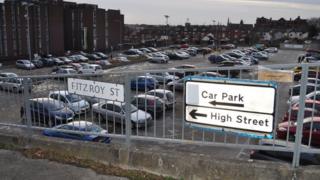 A £2m plan to rebuild a demolished car park is crucial to help a town centre compete with its rivals, an MP said.
The 1,000-space Crown Car Park, in Ipswich, was knocked down in 2010 due to structural problems, leaving a 200-space, open-air car park.
Ipswich Borough Council will build a new, second level in 2016, to take the capacity to 400.
Ben Gummer, Conservative MP for Ipswich said car parking needed to be cheaper than nearby towns.
"Will our town centre recover out of recession and compete with Norwich, Bury or Colchester?" he said.
"A large part of what we can do to make that happen is making parking cheap, easy and pleasant.
"The council...can use its several car parks to bring down prices, increase quantity and improve quality."
David Ellesmere, Labour leader of the council and prospective parliamentary candidate for Ipswich, said: "The level of income it [the expanded Crown Car Park] would bring in would more than pay for building at least one more level.
"We believe parking charges of £1 an hour compares very favourably [with other towns] and Crown Car Park is pretty full all of the time anyway.
"That's why we're looking to increase the amount of space, so we can then look at doing something a little bit more adventurous with promotions."