Needham Lake death: Stephen Jacobs 'bullied' by Ruth Jacobs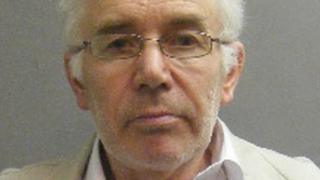 A man who killed his wife by pushing her into a lake had been bullied by her, an investigation has found.
Stephen Jacobs was detained under the Mental Health Act in 2012 after he admitted killing his wife, Ruth Jacobs, 60, at Needham Lake in February 2011.
An independent investigation that was launched because Mr Jacobs was receiving mental health care revealed Mrs Jacobs had also been treated.
It said Mr Jacobs appeared to have been a victim of domestic abuse.
The couple married in 1990, but a year later Mrs Jacobs started to have panic attacks and became dependent on her husband, the report said.
In 1993, Mr Jacobs left his job to become a carer for his wife.
The report was compiled after speaking to family members of Mrs Jacobs and Mr Jacobs, who was detained indefinitely at a psychiatric unit after pleading guilty to manslaughter with diminished responsibility.
It said there had been a "significant level of abusive, controlling and bullying behaviour" from Mrs Jacobs towards her husband.
Mrs Jacobs, the report said, was "well known to local social services and to the police".
However, the report said Mr Jacob's action of killing his wife was "neither predictable nor preventable".
It said he was "profoundly depressed" at the time but had probably not disclosed how ill he was.
The investigation, commissioned by NHS England, made five recommendations to the Norfolk and Suffolk NHS Foundation Trust.
These include providing training on the association between domestic abuse and the risk of homicide, and realising the importance of listening to the wider family.
Dr Bohdan Solomka, medical director of Norfolk and Suffolk NHS Foundation Trust, said the trust would do "everything possible" to prevent "such a tragedy happening again".
"The report highlights that during the short time A (Mr Jacobs) was under our care, the care he received was both appropriate and timely," he said.
"We have also fully implemented the report's recommendations and improved training for our staff around domestic abuse and also the importance of carer and family involvement."