Who becomes a clown and why?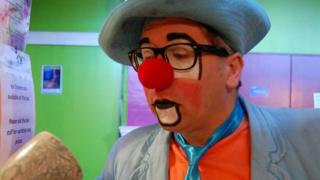 To most of us, their bright white faces, multicoloured clothes and slapstick humour form part of our childhood parties or trips to the circus. For others, they are sinister figures lurking in popular culture to scare us to our wits' end. But what is it really like to be a clown in 2015?
A unicycle propped against a sofa in the foyer of a backstreet theatre in a small seaside town gives a clue to the people assembled inside.
Clown Gathering UK 2015 has drawn about 25 performers from around the country to Britain's most easterly point on a bitingly cold week in January.
The conference in Lowestoft, Suffolk, is the brainchild of Andrew Davis, otherwise known as Andy the Clown.
Both full-time and part-time clowns have been learning how to add slapstick flourishes to their acts, glide on the greasepaint and turn on the laughs during five days of lectures, workshops and table-top sales.
For Mr Davis, 42, the route to becoming a clown was accidental.
He was asked to don the red nose and costume at the theatre school he worked at when the original act pulled out due to illness. Afterwards, the bookings just kept on coming.
Seven years ago, after turning out at weekends for children's parties and festivals, the father-of-three decided to give up being a retail manager and turn professional.
It was a logical progression for the natural-born entertainer who used to be a resident DJ at a town nightclub.
"I loved getting the laughter back from people," he said.
"When you're DJing you've got the music going on and you can only gauge the reactions in the shadows.
"But with the performances at the parties if you do something like fall over there's an instant response in the audience and to hear that laughter is such a magical feeling.
"That's the buzz."
Mr Davis, who is from Lowestoft, is a member of the World Clown Association's executive committee and has attended their forums in America.
While earning peals of laughter is one of the motivations of the job, he believes clowning is down to an innate ability.
"My definition of clowning is that it comes from inside, it comes from the heart," he said.
"People are born pianists, people are born mathematicians, people are born clowns."
It is an opinion that resonates with delegate and full-time clown, director and teacher Jon Davison, aka Jontxu, 52, from London.
"The other day I was in the post office and I was selling some theatrical shoes that we had used in a show," he said.
"They were in a box and the lady at the counter said what are you selling and 'Oh you're a clown?' 'Oh yes, I thought so because of your hair!'.
IT worker Ian Williams said his colleagues did not bat an eyelid when they learned of his alter ego - Smartii Pants the Clown.
The 37-year-old, from Airdrie, near Glasgow, said: "IT guys tend to be quite zany themselves, so there's nothing too much said about it."
Fellow delegate Jonathan Russell, who travelled to the convention from Salisbury, Wiltshire, said his naturally flamboyant personality and dress sense cross over with his work and mark him out as an entertainer.
The 51-year-old, whose stage name is Jonathan the Jester, runs a youth circus. He describes himself as a "funny man" rather than a clown.
"I do occasionally meet people and you can sense a little bit of hostility but just taking the hat off and stepping back works wonders," he said.
"You can get this attitude of 'You think you're so clever dressing like that,' but they get used to it quite quickly.
"Sometimes I walk into a bar and for the first 30 seconds you can see that, but you speak to them and it all drops, so generally people are very warm to it."
Despite recent incidents of people dressing up as clowns to scare members of the public in acts of anti-social behaviour, Mr Davis said his diary was fuller than ever.
"When the media stops sensationalising these people who aren't clowns, who are pretending to be clowns and giving us a bad name, there will be more space to breathe," he said.
"We've proved by us coming together that we are still working and we are still here.
"I get busier every year so there must be a demand for clowns."