Felixstowe fabric shop closes after 70 years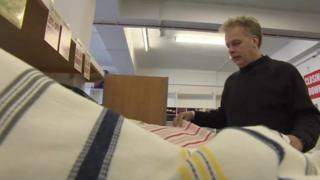 The owner of a haberdashers in Suffolk which has closed after 70 years of trading said he was not "savvy" enough on the internet to save the shop.
Robert Bamberger's grandmother set up the fabric shop in Felixstowe in 1944 and by the 1970s there were three branches of Fabric8 in the town.
He said the growth of internet shopping had also resulted in "a drop in passing trade", down 30%.
The shop on Hamilton Road closed on Saturday, with the loss of 10 jobs.
Mr Bamberger said that while "some people have got savvy and succeeded" on the internet, he had found it "a struggle".
"This industry is a product for touchy-feely people - people love the texture and feel of fabric, how it flows and how it feels, and no tablet will ever tell you that," he said.
Mr Bamberger's grandmother called her shop Dainty Homes and sold doilies, antimacassars and household linen.
During the recession in the 1970s, his father decided to downsize and specialise in fabric remnants and haberdashery.
Mr Bamberger said: "In my view the High Street is becoming a place of entertainment and service industries like coffee shops."
He will continue to trade from his Colchester branch and believes he now has the right help to make the most of the internet.
He said: "We will fight the internet by joining it."