Suffolk Record Office site proposed for Ipswich waterfront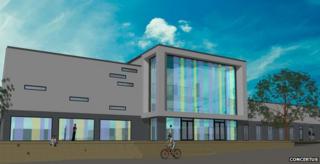 A multi-million pound proposal to move the Suffolk Record Office to Ipswich waterfront is being considered.
Suffolk County Council is looking at building a research centre on Fore Street opposite the main University Campus Suffolk (UCS) building.
The existing offices in Bury St Edmunds and Lowestoft would be retained, while the Gatacre Road building in Ipswich would be kept for storage.
The project would be dependent on Heritage Lottery Fund money.
A plan to bring all three record offices together in one £6-10m purpose-built facility was abandoned in 2013.
The council spokesman said a study would establish if the new plan was financially feasible, but the cost was likely to be in the millions.
Suffolk Record Office, which has an annual budget of about £700,000, collects and preserves documents covering life in the county from the 12th Century to the present day.
The centre would be built in conjunction with UCS on its campus and it would also include rooms for community use and a 200-seat auditorium.
Tim Greenacre, UCS deputy provost, said: "The improved access to archive collections will provide many new opportunities for students and academic staff, and will raise the profile of UCS as a major centre for heritage studies."
The council said work on the site could begin in 2017 if funding was approved.