School head Neil Jackson resigns over 'hoop jumping'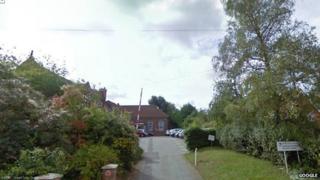 A head teacher frustrated by having to "jump through hoops for a faceless government" has said headship is "no longer the job for him" and resigned.
Neil Jackson explained his decision to leave Hadleigh Community Primary School in Suffolk in a letter to parents.
He said schools were judged "solely by children's progress" irrespective of which government was in power.
The government said it is working to tackle teachers' "unnecessary and unproductive workload".
Mr Jackson, 52, who has led the school for four years, said he made the decision after being offered an alternative job which is not a headship, "after much soul-searching".
"I constantly find myself frustrated by having to tick boxes and jump through hoops for a faceless government who do not understand what providing wonderful, creative learning opportunities for children is all about," he said.
'Constantly stressed'
His decision comes after the school was rated as "requiring improvement" by Ofsted last summer but inspectors said the school was progressing at the end of last year.
Mr Jackson said his staff were "constantly stressed and exhausted" by the "huge" amount of paperwork they had to do.
"When staff ask me how to achieve a better work/life balance, I can no longer give them an answer," he said.
"It has not been an easy decision to make and I have made it with a heavy heart and have suffered many, many dark nights."
The Department for Education said it wanted to support the profession to tackle the workload which "many teachers are concerned about and is stopping them from giving time to what really matters".
The new Workload Challenge scheme, which gives commitments by Ofsted not to change their framework during the school year and give more notice of changes, will help address the issue, a spokesman said.
Councillor Lisa Chambers said the county council's priority was now to work with the school's governors "to find a suitably experienced replacement head teacher in a timely fashion".