Firefighters tackle Sudbury pet food factory blaze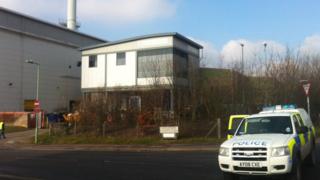 A major fire has broken out at a pet food factory in Suffolk.
About 30 firefighters were called to the blaze at Nestle Purina Petcare on the Chilton Industrial Estate, Sudbury, which began at about 10:15 GMT.
The fire involves six large tanks of animal fat which are close to a neighbouring factory.
The fire was brought under control by about 11:50 GMT, but firefighters are remaining at the scene to monitor any hot spots.
Crews worked to protect a 30,000 litre tank of phosphoric acid near the blaze, using three hose reel jets to cool the tank.
Nestle Purina Petcare produces Felix cat food, and Bonio and Winalot dog foods.
Nearby roads were closed while fire crews tackle the blaze.