Prime Lettings holiday firm police inquiry ended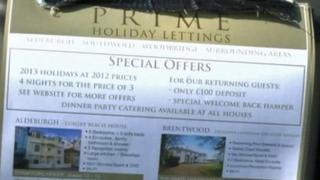 Directors of a luxury holiday lettings firm were not involved in criminal or dishonest behaviour, police investigators have concluded.
More than 200 people lost their holiday bookings when Prime Holiday Lettings Ltd was voluntarily liquidated last Easter with debts of £500,000.
Suffolk Police said it had closed its inquiry into possible fraud offences.
However, a new investigation into the affairs of the directors has just been launched by the Insolvency Service.
Det Con Hannah Martin told creditors: "We have assessed the nature of the collapse to see if customers were dishonestly defrauded of monies paid for holiday home deposits.
"Suffolk Police are satisfied that there is no evidence to show that the directors knowingly, or dishonestly, took customers' money, not intending to deliver their holiday lets."
A Suffolk Police spokesman said the force was aware of the letter it had been sent to creditors.
Prime Holiday Lettings Ltd, which rented prestigious properties on the Suffolk coast, was run by Sheila Moore.
The business collapsed after a bank called in loans on the houses, which were owned by her husband Richard Moore, a vice president at Ipswich Town Football Club.
Those properties, including the landmark Sundial House at Aldeburgh, were worth a total of about £9m and were put up for sale.
'Early resolution'
One of the liquidators Peter Mayo, of Allsop, told the BBC: "We have ceased to act, after the debt on the real estate was repaid."
However, the creditors of Prime Holiday Lettings Ltd, many of whom lost more than £1,000 in holiday bookings, have not received any compensation.
Liquidators acting for the company have submitted a legal report to Business Secretary Vince Cable, prompting the Insolvency Service to begin its own investigation.
Joint liquidator Paul Weber, of Leigh Adams, said: "A number of issues have been identified and recommendations made as to steps that maybe initiated with the objective of securing some return to creditors. We hope to be an early resolution of these matters."
The Moores, who have previously liquidated a number of previous companies, deny any wrongdoing. Last year, Mrs Moore told the BBC: "I have not misled anybody."