Suffolk Police chief constable on extended sick leave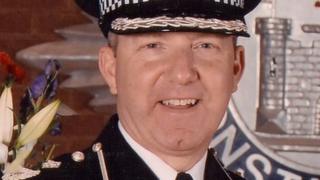 The top police officer in Suffolk has gone on extended sick leave from his £133,845-a-year job and will be off "for the foreseeable future".
Chief Constable Douglas Paxton, 49, left his post on 16 December but the nature of his illness has not been revealed.
The BBC understands it is not a life-threatening condition.
Police and Crime Commissioner Tim Passmore said Deputy Chief Constable Gareth Wilson was standing in.
"The chief constable is currently off sick and is likely to be for the foreseeable future," Mr Passmore said.
"To cover Douglas' absence I have asked Deputy Chief Constable Gareth Wilson to step up to the role as temporary chief constable with immediate effect.
"To help provide further resilience, former Assistant Chief Constable Tim Newcomb is currently providing short-term support to the chief officer team while we work to secure a temporary deputy chief constable to cover Gareth's substantive post.
"I'd like to take this opportunity to wish Douglas well in his recovery."
Previously it was revealed Mr Paxton was the only person to apply for the role of chief constable.
He was given the job after a "rigorous" interview followed by questioning by the police and crime panel.