Felixstowe yacht collision: Seaman on dredger sentenced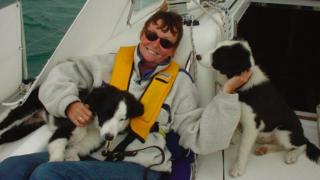 A chief mate on a 5,000-tonne dredger has been given a suspended jail sentence after his vessel hit a yacht on which a woman drowned.
Bernadine Ingram, 57, was found in the water a day after the accident near Felixstowe, Suffolk in June.
At Ipswich Crown Court, Gerardus Chapel, from the Netherlands, admitted failing to discharge his duties properly as officer of the watch.
The 37-year-old was sentenced to six months jail, suspended for 18 months.
Chapel was on the Shoreway went it collided with the yacht, called Orca, about five miles (8km) off the coast.
He was also fined £6,000 and ordered to pay costs of £4,800.
'Sorely missed'
Mrs Ingram, from Butley in Suffolk, was on board the Orca with a man and two dogs.
The yacht sank and while the man and one dog were rescued by the crew of the dredger, she was not found alive.
Peter Ingram said: "Nothing can bring back my wife Bernie. She's sorely missed by me and many other people.
"The defendant was found guilty of failing to do his duties properly and has been held to account and that it was the significant cause of the collision."
Chapel had failed to keep a look out in an area where there were likely to be small vessels such as yachts, the court was told.
The defence argued both vessels had a duty to keep watch.
Simon May, from the Maritime and Coastguard Agency, said Chapel had "failed to use all means at his disposal such as radar and a bridge look out."